Women in Business: Virtual Coffee with Pat Roque
Date and Time
Tuesday Jun 30, 2020
8:30 AM - 9:30 AM EDT
Fees/Admission
This event is free and open to any Woman in Business.
Website
Description
Transformation Coach Pat Roque returns (virtually) to the Matthews Chamber, and her topic is Your Network is Your NET WORTH. Learn how to rock your connections over virtual coffees to stay top of mind, especially during this pandemic. Pat shares secrets on how to reconnect and open doors to hidden potential with a 90-day success plan.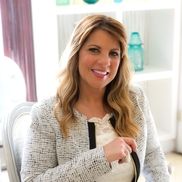 Pat Roque, the Rock Star Transformation Coach, has appeared on top media including Good Morning America, INC, New York Post and the Ladders, and she is a contributor to Arianna Huffington's Thrive Global and The FairyGodBoss. Pat is a sought-after keynote speaker, people strategist, and author who lives a laptop life from Myrtle Beach, SC and Wayne, NJ.
Pat founded her company in 1988 and wrote her master's thesis on best practices for virtual teams in 2000-01, even before 9/11 built a high demand for remote workers.
Pat returns to the Chamber as she leverages her unorthodox corporate, agency and virtual team leadership experience to empower entrepreneurs, professionals and teams to rock their career and life without selling their soul or losing their mind.
Pat shares candid life lessons from her "rearview mirror" (including how she bounced back from rock bottom) to help people not only survive, but thrive, in the new normal despite the coronavirus craziness.

Help us thank our 2020 Women in Business sponsor: